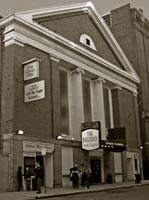 Late in the summer 1964, the production manager for my Boston Arts Festival production of The Emperor Jones, Hugh Lester, suggested I meet Frank Sugrue and Michael Murray. They were respectively the producer and artistic director of Boston's Charles Playhouse [CP].
They wanted me to join them as the associate artistic director. My jobs? Direct their new musical theater series for children and create a traveling company to perform in the public schools of Boston's inner city. The performers would have to be limited to non‐members of Actors Equity Association. They also had to be more than sufficiently versatile to perform as a repertory company three musicals and a range of classical and modern texts in semi‐staged events in the schools.
As I can remember or research who they were, I'll list them here: Barry Michlin, Lynn Milgrim, Doris Hale.
Joe Raposo signed on as musical director and together we produced and staged three full‐scale musicals for children, including an original written by Raposo and me, Cat in the Hat. The focus audience age range was 9‐15. Each production was given six performances on three successive Fridays and Saturdays on the CP main stage.
The inner‐city project included scenes from Romeo and Juliet, Hamlet, Death of a Salesman, Pajama Game and an opening and closing sequence based on Commedia del Arte characters. Our performing spaces included cafeteria, gyms, what were called "home economics" classrooms complete with ovens, stoves, kitchen sinks and sewing machines.
And I would direct the newly instituted Ford Foundation American Writers grant that had been granted to the CP and to the poet Anne Sexton. The Ford Foundation grant was meant to provide a development process at a regional theater for writers who had not written for the stage to create a new theatrical work.
Anne, who had just been awarded the Pulitzer Prize for poetry, worked for several months with the young non‐Equity actors and me in developing a manuscript or what she described as a folio of scribbles, complaints, therapy sessions and nightmares. She called it Tell Me Your Answer True. I hope only that Anne learned as much about playwriting, actors, directors and the creative process of taking words from her pages to the stage – as we learned from her about writing and reading poetry. The play was intensely personal to her. She opened to us the doors and windows of her life, dreams, fears with a grace, talent and beauty that touched us deeply and forever.
In 1969, the work Anne did with us at the CP was fully realized when it was produced at the American Place Theater in New York. It was directed by Charles Maryan with a new title, Mercy Street.
At the end of 1964 I directed the musical She Loves Me in the first out‐of‐New York production permitted after its Broadway presentation. Joe Raposo was musical director and the cast included Mimi Turque, Muni Seroff, and James Rado who would perform in my 1966 production of A Joyful Noise and go on to write and star in Hair. Jane Alexander made her professional but non‐Equity stage debut in a tiny cameo role.
Sheldon Harnick and Jerry Bock who wrote the songs for She Loves Me (and Fiddler on the Roof, Fiorello and The Rothschild's) saw our production, were totally charmed by the intimacy of the CP. As we discussed it as much more of an intimate, small‐scale musical work than a work to be placed in a large Broadway house, they said, "Now we've seen it done right."
A salute to the founders of the Charles Playhouse
They were among the genuine pioneers of the regional theater movement when there really wasn't a "movement" at all. When there weren't a dozen professional regional theaters in the US.
Frank Sugrue was a smooth talker and a mercurial businessman who seemed either to have just made a killing or just been killed by his latest deal. He was completely loyal to the artistic vision of Michael. Willing to do whatever was necessary to find the funds, oftentimes against daunting lack of community support, to keep the doors of the playhouse open. He had trouble saying "No" to his artistic directors. But he managed. In doing so he also managed to produce about 100 plays at this vanguard regional theater. Without Frank the playhouse would have failed financially year after year. He made sure it did not.
Without Michael Murray the CP would have been just another performing venue, a presenting house. Instead it became a widely recognized artistic enterprise. He was a most welcoming artistic leader who had established the highest standards of production and performance. Actors loved him. They returned to the CP over and over again working for very low wages. Designers would find a way to create for him splendid scenery and costumes within the constraints of very tight budgets. As a new arrival at the playhouse I enjoyed the benefits of this large and loyal cadre of actors and designers who loved working with Michael and at the Charles. Thanks to Michael they became part of my casting pool too. My initial commitment to the CP was interrupted early in l965. I accepted the job of directing a new play by Jack Gelber for the Establishment Theater Company at the Theatre de Lys in New York.
I returned to the Charles in 1966‐67 to stage Jean Genet's 'The Balcony" with Olympia Dukakis, Louis Zorich, Gerald McGonigal ‐‐ and in her first stage appearance, Jill Clayburgh.